Auf Deutsch: Obsidian – Deine Notiz-App für alles, für immer (generateCLICKS.DE)
YouTube Video (above): Tiago Forte interviewed by Nick Milo on how good is Obsidian as a second brain (16:25 minutes)
Recently I posted a review of 68 note apps here and promised that there will be more to come.
Voilà!
You have to watch the video linked above, if you want to get an impression in fast forward of the enthusiasm Obsidian often triggers. Also with me.
But caution!
For a first start it's probably not the most recommendable of all videos. Then maybe read more here first …
Or go straight to the Markdown Tutorial (especially for Obsidian)
What does Niklas Luhmann have to do with this?
Niklas Luhmann (1927-1998) never touched a computer all his life. In the main, he is famous for his contributions to systems theory in sociology. But even before he became professor in Bielefeld, he created his first slip box. Later a second box was added.
Over 30 years, a total of about 90,000 slips of paper thus accumulated in 24 drawers. On the thinnest (old) paper, cut by hand to about DIN-A6, so that as many notes as possible fit into one drawer. Mostly scribbled by hand, in x passes. Mostly only on the front side, to flip through the drawers faster.
For Luhmann, the slip box was the recipe for success for his productivity, which still impresses today. If only measured by the number and volume of his many books and other publications. He had the boxes right next to his desk so that he didn't even have to get up while writing to leaf through them, to list new ideas, new sources and to sort them meticulously.
He must have spent an incredible amount of time with his box of notes.
By the way, not a single one of the 24 drawers was labeled. Part of his system was that he always had the rough order in mind. Even in the drawers itself, with 2,000 to 3,000 slips of paper each alone!
There are actually people who still use 1:1 after the example of Luhmann an analogue slip box, more or less made of wood.
There are actually also people who use a digital system like Obsidian, but stick to the cryptic index, like Luhmann had to invent for himself, to cope with thousands of tiny, thin slips of paper.
This is no better or worse than any other note system one can think of. The main thing is that everyone finds the system for him/herself with which he/she is most productive.
Obsidian leaves all options open for you how to get your perfect notebox.
What is Obsidian really, what not?
Obsidian is software that runs on all major platforms:
Windows
Macintosh
Linux
Android
IOS
The software is based on the Open Source Framework Electron for HTML, CSS and JavaScript. Like many apps now, e.g. Discord, Signal, Slack, Teams, Tidal, Twitch and Visual Studio Code.
Obsidian itself is not open source software.
Electron apps like Obsidian run on the local system, but feel "like they're in the browser". This is because they use the same platform as many web browsers (Chrome, Edge, Opera, Vivaldi, Brave) with Chromium and Node.JS.
This brings many advantages, for the development of the software, because many modules are already ready and robustly tested by many teams.
But what can you do with Obsidian software at its core?
**Obsidian is simply a text editor at its core.
What?
Alright. It's very succinctly stated. The gist is that it's about texts in markdown format. So you can write in normal text files
character formats like italic, bold, strikethrough
simple or numbered lists and
hyperlinks
use.
And with that you also get
headings, from top to bottom
images, music, animations, videos
and all kinds of other "attachments".
into your texts. Just like in a HTML document for a website.
Only not so complicated. And therefore much faster and easier to type.
And: all the advantages and possibilities that HTML and CSS offer remain with you if you need them.
You can always "enrich" Markdown with HTML.
And Obsidian leaves you all the possibilities in the world to design your user experience with the software and your documents with CSS as you like.
So Obsidian gives you a basically solid platform for all the notes you can ever think of. With all the zip and zap you could ever want.
Ordered, linked, cross-linked, condensed, sorted … just as you need it to create your personal knowledge base, for your Personal Knowledge Management (PKM).
How simple this works in practice, I'll come to that in a moment. And then you can start right away.
What does the Obsidian software cost?
For personal use Obsidian is free of charge.
And the developers even promise to keep it that way forever. Including the excellent, sometimes overwhelming support of the ever growing user community.
For a one-time payment of at least 25.00 USD you can become a sponsor:in and get e.g. access to the beta / insider versions before they are available to the general Obsidian community ("Catalyst").
For commercial use you currently have to pay 50.00 USD per user:in and year. In return there is direct support from the Obsidian team.
Independently of this, there are two chargeable additional services, which you can book individually as needed:
Sync for 8.00 USD per month for encrypted synchronization of an Obsidian installation, distributed over multiple devices.
Publish for 16.00 USD per month and website to publish an Obsidian installation on one or more websites
These additional services are really optional.
For personal use, you can also sync multiple devices (computers, phones) in other ways, e.g. via GitHub, Dropbox or Google Drive.
And the integration of an Obsidian Knowledge Base with a website is often not 1:1 useful.
For example, because you have good reasons to keep running your already existing website with WordPress, etc. Which explicitly does not mean that there are at least as good reasons to import content in Markdown format into a WordPress website, for example.
But that barrel is too big for this article. A huge topic in its own right – more soon, gladly back here, in this theater
Download and install Obsidian
Nothing simpler than that. You go to the
Obsidian homepage](https://obsidian.md/)
click the platform of your choice
and download the installer
or do it via the App Store
Download Obsidian for Windows
Using Windows as an example:
In the Download folder, double-click on the file you just downloaded.
and wave it through as usual. Subsequently
look in the startmenu for the app with the purple stone
best is to create a Shortcut (DeepL access) right away
and start!
Okay. Admittedly. Directly after the fresh installation everything still seems a bit empty.
But that will change very quickly, I promise!
Your first notebox with Obsidian
Already during the installation Obsidian asks you what your Vault should be called and where the folder for it should live.
Vault means translated Vault.
I call it in this example, Niklas Luhmann to honor: My ZK 1, as shown in the following screenshot. You can of course choose any other name. The main thing is that you remember that e.g. question marks must not be included, because Windows should be able to handle the folder with the same name.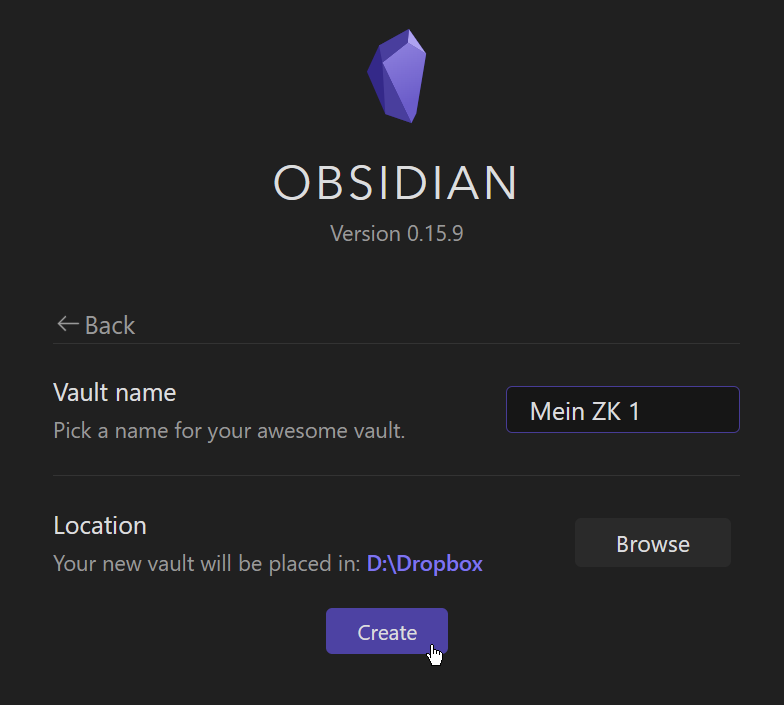 If you then open this Vault folder with Windows Explorer, you will immediately see what I meant by "empty" above.
Obsidian drops a few tiny .json files in the Vault folder, and an ominous file called "workspace". That's it.
Apparently everything else has to come from you now!

The Icons at the bottom left give you permanent direct access to the Settings and the Online-Help. With the icon above you can create another vault, in a separate folder on your disks.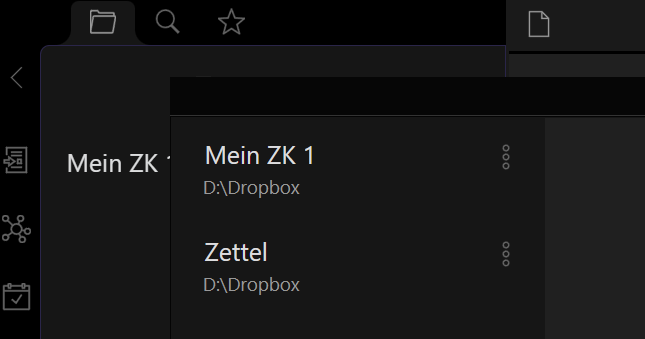 So you could create a separate test and play vault or download a ready-made vault from someone else and try it out.
At the very beginning, however, I would advise against this.
Obsidian offers translations in all possible languages. As shown above, you can e.g. change to German with a few clicks.
I personally leave it at English. Simply because the Obsidian community is almost exclusively in English and it translates easier if you don't have to translate it at all.
But of course you can also decide how it suits you best.
Extensions are implemented in Obsidian as plugins. There are two classes of them.
Internal plugins (Obsidian extensions) are already pre-installed. If you go to the list in the settings, you can activate or deactivate them individually. Some of them are already activated for you by default. You can start with this default set. You will always end up in the settings from time to time anyway, in order to try out one or the other differently than before.

If you also want to have a look at the list of external plugins, Obsidian forces you to unlock yourself.
Boah, that will take you years to get through!
For the beginning I also advise you: fly through it and let the list work on you. If one of the plugins appeals to you spontaneously, choose it, activate it and have a look at it.
For each option you can see how many thousands of users have already installed the plugin in question.
This is not a guarantee. But it raises your confidence.
And what could go wrong, now, at the very beginning, with your empty vault?!
Integrate existing files and notes
If you've been under the impression so far that Obsidian is not much more than a text editor for now, with its own data folder that feels almost as normal as any other folder on your disks, you're absolutely right!
This is one of the magical advantages of Obsidian.
This folder is yours. Just like all other folders. As long as you have a special subfolder named
.obsidian
you can do whatever you want with your vault folder. Obsidian is with you. And it will stay with you.
So you can rename, copy, backup, move to the cloud of your choice, etc. etc. your vault as you wish.
The worst that can happen to you is that you start Obsidian and Obsidian has to ask you where your vault is. Then you show him the way, and from then on everything is fine again.
You can also go one step further.
Surely you already have some notes that you would like to keep under control with Obsidian from now on.
Then just move them into your Vault folder!
Every time you start Obsidian, it indexes this folder by itself and you can access these files from Obsidian.
There is one thing to keep in mind though: the thing with the file type or with the file extension.
Under Windows, Markdown text files have the extension .md.
Other text files have the extension .txt.
And then, of course, there are any number of other file types for all sorts of programs like MS Office, image, music, video files, etc.
Obsidian itself only processes .md files.
Files in the Vault that have all kinds of other file extensions are passed by Obsidian to the appropriate other programs and apps (you can specify which ones in the Windows Settings under Default Programs).
Pure text files with the extension .txt are best renamed.
As soon as they have the extension .md, Obsidian opens these texts as if they were already in Markdown format.
Other files you find in your Vault you may want to put in their own folders first, e.g. named "Word" for MS-Word files with the extension .docx, "Excel" for spreadsheets with the extension .xlsx, etc.
That way, when you open the folder in question, you'll at least know which program is about to jump out at you!
As shown in the image above. Using my current "vault" as an example.
There I created subfolders under the shortest "name" I could think of, an exclamation mark, for all possible file extensions. And the files in these folders I link then in the note files. Or embed them completely in notes.
The exclamation mark makes the links so nice and short
But beware: this can also go wrong on Mac or Linux. It works for me!
Continue to advance and build a system
As soon as you have started to work with Obsidian seriously, you will quickly notice that it is a living object.
I think it is out of the question for you to make a comprehensive plan in advance of how you will build your system. You will – probably like me – be forced to move forward step by step. Also sometimes to reject, what you still held yesterday for the most ingenious idea under the sun.
If you read my previous post about 68 note apps, you might remember PARA, the magic general order Tiago Forte recommends for such "note safes":
Projects (Projects)
Areas (areas of responsibility)
Resources (areas of interest)
Archives (storage)
For me it currently looks like shown in the following screenshot.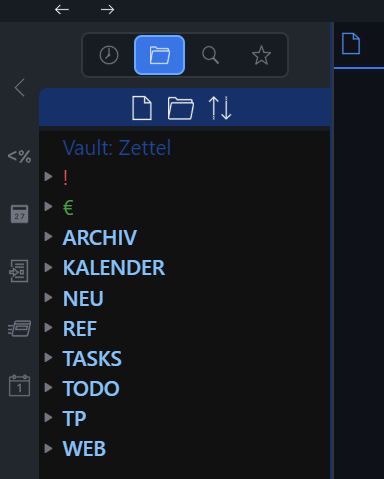 As you can see, I have a few more folders. And I want partout – for now – not less:
! contains all possible "attachments" for linking, see above
€ contains everything that has to do with money
ARCHIVE I kept from Tiago
CALENDAR includes … you guessed it.
NEW: everything I scan, photograph, record somewhere ends up here … and awaits further processing, selection and sorting
REF contains resources and references to everything that is not mine
TASKS: here I develop my todo lists with appropriate plugins and occasionally even work through them
TODO is a collection folder of historical todos and the like, which I want to integrate into my Obsidian system soon
TP stores all my templates (more about that in the next chapter)
and WEB is the parent folder for all my web projects, with subfolders for the respective domain (but at the moment it's still a single construction site)
And now that I look at it again: there are already some similarities with the PARA principle. But it is also very clear that this principle (like many others) should not be seen dogmatically.
On the other hand: You will find out that your Vault grows fast and constant rearranging on a large scale not only confuses, but also takes time and provokes errors. So you should try from the beginning to bring a most stable basic order into your folder system (as well as into all other systems Obsidian provides you with, but more about that in the next chapter).
One more thing: if you are familiar with the Windows command line, you have not least the option to move whole folders only virtually into your Obsidian vault. Obsidian officially supports symbolic links (Windows: Junctions).
For example, I didn't actually copy the MP3 folder under the exclamation mark into the Vault folder, I just created a junction. Obsidian indexes these 5,000 or so files in 1,000 or so folders, as if they were "own" Markdown files, and also provides a player on click, for playback. I can also link these files in notes, with file name auto-completion, etc.
Which brings me to the question:
How big can your Obsidian vault get before it's too tough to use or (God forbid!) collapses altogether?
Niklas Luhmann is known to have taken 30 years to write 90,000 DIN-A6 pieces of paper. I guess I can do that, you can do that in much less time. Especially since we use thicker "pieces of paper", see my example with the 5,000 MP3 files.
I read somewhere that they have already successfully done tests with Obsidian in the order of several tens of thousands of files. Only the software is not yet 3 years old. How far this is really to be exhausted, I think, no one knows to say at the moment.
Themes, Snippets, Plugins, Templates, …
There are countless different Themes for Obsidian. In the German translation insufficiently called Farbschemen, see screenshot above.
According to my experience, you can first of all use the full range of colors. I'm sure all new users do that first
Nothing can happen there. You can switch at any time.
But: not only colors are set differently, starting with switching from "Light" to "Dark". Other styles of all kinds also change, sometimes dramatically, as far as buttons, menus and the like are concerned.
And: I'm still talking about the current Obsidian version 0.15.9. Any day now it can be so far, and version
0.16.x
will be released for the whole community. And with this version, the user experience and the "user interface" of Obsidian will change a lot.
As you can see in the screenshot above, my current theme is called "Luhmann".
You won't find that anywhere. It's a kind of Frankenstein, wildly combined from originally an official theme, with gradually added CSS snippets, which inspired me e.g. in forums or other blogs.
I think, as soon as 0.16.x is finally out, I will switch back to the theme "Minimal ". It is the most popular theme ever. And the author, Stephan Ango aka Kepano, is now a member of the Obsidian development team.
"Minimal" is definitely a reference you should check out in comparison as well.
You can always add snippets etc. later
As for plugins and templates, I would like to be very brief at this point. Simply because there is still a lot to blog about it separately …
All external plugins that I currently have installed and actively use are listed in the following screenshot.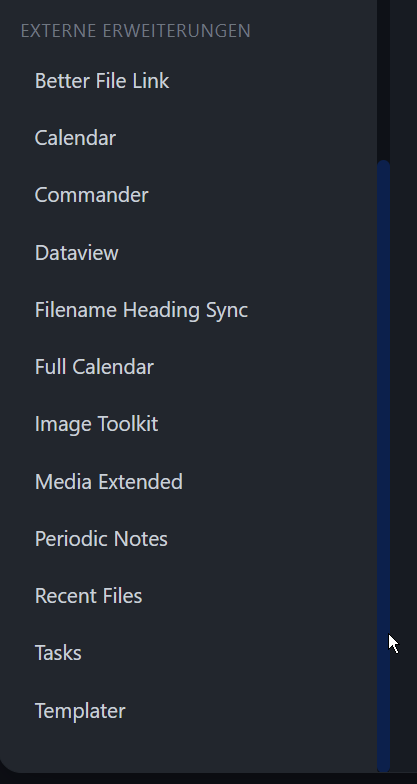 As soon as Obsidian 0.16 is available, you can forget about the plugin Filename Heading Sync. The function will be integrated in the Obsidian core.
All other plugins will continue to work:
Better File Link facilitates links to files outside the vault.
Calendar brings a calendar view into play from which you can organize your days, weeks, months, quarters and years
Best used in conjunction with Periodic Notes for "diary" notes corresponding to the calendar
Commander allows you to integrate your own commands everywhere, which you can choose from the whole palette
Full Calendar integrates external calendars, e.g. Google (currently read-only)
Dataview turns your "vault" into a database that you can query, filter, sort (also with JavaScript)
Tasks makes it easy to use Markdown checkboxes as tasks with description and scheduling
and with Templater you can build your own templates for notes, e.g. to automatically insert the current date and a certain outline
etc. etc.
With the best will in the world, this can only be a very first overview at this point. More soon – and: deeper!
Conclusion: Caution, Rabbit Hole!
Which brings us to Rabbit Hole for good.
Obsidian is one for sure.
You are required to constantly stay on your guard and keep yourself from chasing all the ramifications that will open up for you everywhere.
My conclusion, as of today:
In my opinion, Obsidian is a great success for the development team. To provide a comparatively tiny tool that has a great potential that can't be estimated at all.
The first version was released in March 2020.
According to legend, firstly because they had nothing better to do during Corona and secondly because Erica no previously available tool was good enough.
The team at that time consisted of 2 people. Recently it was expanded to 6 people, plus 2 cats.
This could only go well because from the beginning they were super-clever about "just" integrating already existing, comprehensive and otherwise well-proven platforms.
They have already proven that they can do this with Dynalist.
An extremely popular online tool that was originally intended only for outlines (outlines and checklists). But the current feature list of Dynalist shows: there is some overlap more, with their latest product, Obsidian.
But, but: all the justified enthusiasm should not hide the fact that Obsidian has only reached version 0.15.9 today.
I don't know of any longer term roadmap. At least none that is published anywhere, so far.
For people who can (and want to) dig into Templater and Dataview, Obsidian is a giant playground that I actually have the impression could be developed into a kind of two-brain, over time.
But for people who want a turnkey system, Plug And Play, Obsidian is still a few versions away.
And finally, for people who can't do without team collaboration, Obsidian is not an option at all for now, unfortunately.
With a few handstands and verbal agreements, I can imagine that an Obsidian vault can be shared among several User:ins, but there is still a long way to go before proper support for teamwork in the notebox.
But as I said. Who knows?
Personally I like the strategy of the Obsidian developers: just don't promise anything big, but: deliver, deliver, deliver.
And the community takes care of the rest 🙂
Quellen und Links
Obsidian.md (Homepage, Download)
Making Notes – Digital Notebooks (Overview)